Padre Pio Prayer Garden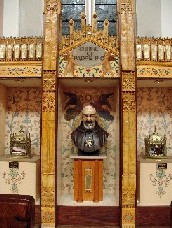 The Saint (padre) Pio of Pietrelcina prayer garden is open daily and it is located at 210 West 31st Street, New York, NY 10001 (At Seventh Avenue).
You are cordiallly invited to spend some quiet time in our prayer garden or before the Blessed Sacrament in our Church.
Our parish has a Padre Pio Prayer Group which meets on the fourth Saturday beginning in the Church with the recitation of the Rosary at 12:00 noon and Mass at 12:15 P.M. Following the Mass there is the blessing with the relic of St. Pio and a social and instruction at 1:00 P.M. in the church hall.
Padre Pio's favorite prayers www.padrepio.us
Padre Pio prayed to "La Madonna delle Grazie," see and pray the prayers translated into english at www.ourladyofgraces.org
A loving and living tribute to the memory of a loved one and at the same time help the Friars at St.John's keep the "lights burning" in this majestic, 160 year old Church.
Amid the hustle and bustle of the Big Apple, the Saint Padre Pio Prayer Garden offers a moment of peace and a spiritual refreshment to harried parishoners,commuters and tourists.
The Friars have rejuvenated the Prayer Garden and have built inside the church a beautiful shrine in honor of their Capuchin brother's beatification in Rome by His Holiness the Pope John Paul II.
In the Prayer Garden there is a beautiful, permanent Recognition Sculpture where a donor can have the name of a loved one engraved on a diamond-shaped , marbel-like Corian Plaque.
Gifts for the Saint Padre Pio Prayer Garden will support the Saint Padre Pio Shrine in the Church containing the precious Relics of the Saint Padre.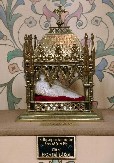 You are also a partner with the Friars in helping the homeless and feeding the poor. Every year the Friars feed over 24,000 people. Every day people come to the door of the friary seeking spiritual and physical relief. Just like Saint Pio, the capuchins at St. Johns continue to alleviate the suffering in the world. By your generosity, you make these works possible and as a "Friend of the Friars" you share daily in their Masses and devout prayer.
Please be a part of our Saint Padre Pio Prayer Garden, a beautiful and lasting tribute to your loved ones.
For more information and to recieve a brochure on the "Be An Angel" program, you can contact us at Stjohnbap@aol.com

A free St. Pio Prayer Card is available and will be mailed to you by writing to St. John's Church (Prayer Card), 210 West 31st Street, New York, NY, 10001. Your name and address will be added to the St. John's Church Sweepstakes mailings and will not be shared with any other institution or marketing company